New TR

New TR 2003

The Neuroptera of Malesia.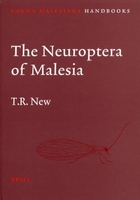 Sonderpreis Abverkauf, statt 159 €, Ausstellungsexemplar, evtl mit leichten Kratzern auf Umschlag
Fauna Malesian Handbooks Vol. 4. 212 S., 217 illus. This volume brings together much hitherto highly scattered information on lacewings and their allies known from Malesia. It includes keys to generic level, notes on the diversity and representation of each genus, and comments on the faunal relationships within the region. Each of the twelve families is defined, and information on biology and any economic importance summarised.